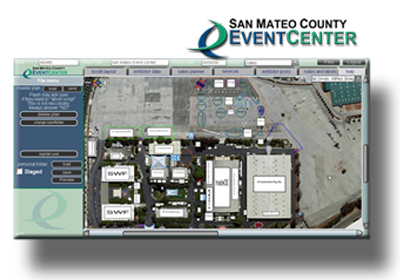 Diane Baumann, San Mateo County Event Center
"I had past experience with Fairs MI when I worked at the Calaveras County Fair. When I discovered we had no software at the San Mateo County Event Center that could do outdoor layouts. The San Mateo County Event Center purchased Fairs MI 60 days before the Fair started. As always Steven was outstanding to work with, and had us up and running in days. We did all outdoor layouts for the 2008 San Mateo County Fair on Fairs MI. We are now training more staff on Fairs MI, and are looking forward to being able to utilize all the components for the 2009 Fair. We are also utilizing Fairs MI to do outdoor layouts for non fair rentals and to integrate Fairs MI into our web page"
Ingrid Davila, Fair & Event Coordinator, San Mateo County Event Center
"We used Fairs MI to do our Fair Layout which made it so much easier for us this year. It's easy to use, very accurate and a real time saver. We look forward to using it next year for outdoor and indoor layouts."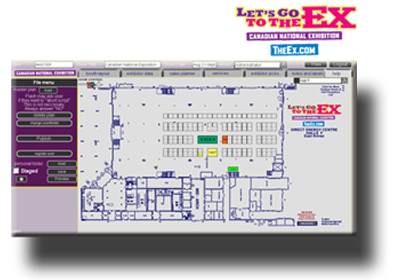 CNE, Canadian National Exhibition, Mike Knott -
"Over the past few years we have incorporated a number of changes to our Midway and Concession Layout and one of the most difficult aspects of this process was running back an forth to our drafts person to put these changes on the site plan. Once on the site plan determining if they would work, Kind of like working on a puzzle through the mail. We were looking for a computer program that would allow us to input the changes and test different scenarios without to much trouble. At the 2008 CAFÉ convention attended the Fairs Management Interactive session on Mapping. This was exactly what we were looking for, shortly after the convention we invited Steven to visit us at the CNE to give us more detailed education of the system, after which we signed up. This program is now an important tool in the preparation of our Fair."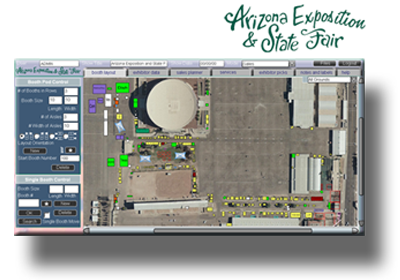 Arizona Exposition and State Fair
Fairs M.I. has been working closely with many departments and staff of the Arizona Exposition and State Fair facility, training and providing custom innovations for their immediate needs and future goals. Their state guidelines prohibit published endorsements.....so just be sure to ask them ..."how easy has your event planning become lately?" The AESF team has made more comprehensive use of our services, than any other customer to date. It's been an exciting collaberation for Fairs M.I.!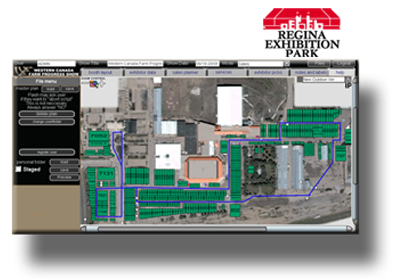 Daylene A. Sliz, Exhibits Coordinator Marketing & Events Regina Exhibition Park, Sakatchewan
"Upon first glance, Fairs MI appeared to be an imposing program. But with Steve's coaching and less than an hour of instruction, a student can have the basics down and begin creating unique and specialized floor plans quickly and easily to suit any venue, whether indoors or out. Steve Bolgiano is an accessible tutor and instructor who makes himself available at all times by email and telephone. He uses his vast knowledge of the program and his comprehensive skills in the Events Industry to guide the user to swift problem solving conclusions, offers up new ideas for floorplans, and works to constantly ensure his customers' needs are met."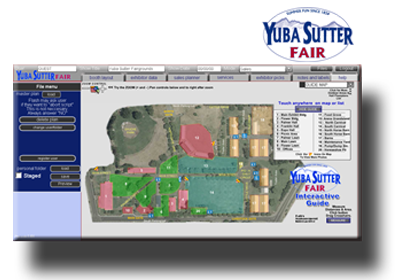 Yuba Sutter Fair - Regina Goody, CEO
This program has eliminated numerous hours of manual labor for each of the many layouts, design plans, and logs we have now created for the fair and other upcoming events. The grounds layout map is so professional we are going to be able to use it for our newspaper published fair booklet. The program also has assisted our organization in maintaining efficient layouts and logs and will benefit us for future fair time and interim events. This program will benefit our fair for a long time.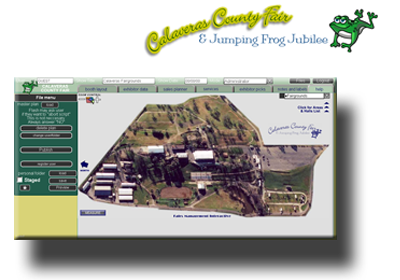 Calaveras County - Ray Malerbi, CEO 39th District Agricultural Association
"Having taken over the layout of our commercial exhibit and food & beverage program, I had very little first-hand experience working with the Fairs M.I. program. With just two short phone lessons I was able to layout our Holiday Fair and begin the initial plans for our Fair. Thank you Fairs M.I. "