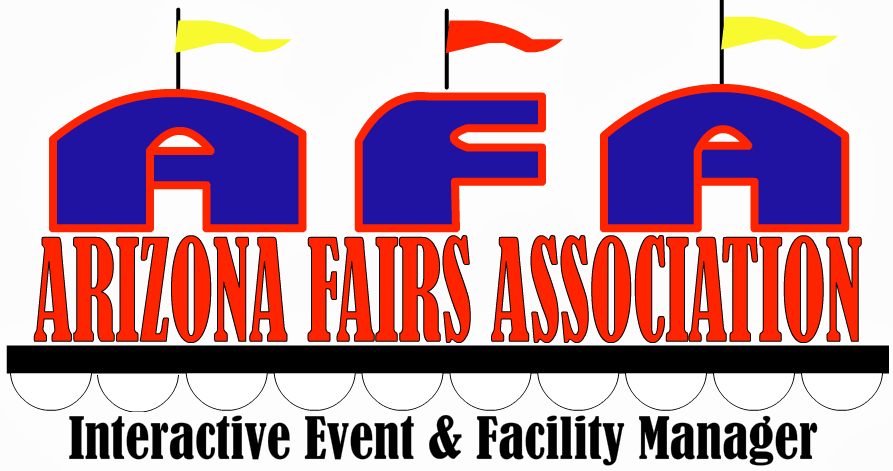 AFA Fairgrounds Online
Apache County Fair
Arizona State Fair
Coconino County Fair
Gila County Fair
Graham County Fair
Maricopa County Fair
Navajo County Fair
Pima County Fair
Santa Cruz County Fair
Verde Valley Fair
 
Arizona National Livestock Show
Cochise County Fair
Gila County Fair
Greenlee County Fair
La Paz County Fair
Maricopa County Fair
Mohave County Fair
Northern Gila County Fair
Pinal County Fair
Yavapai County Fair
Yuma County Fair
Welcome Arizona Fairs Association Members!
AFA Members now have access to an Event Planning and Facility Management software... "Fairs M.I."
This is an Association wide program. Check with the AFA for details.
Unlimited learning and support, Unlimited numbers of Users, Unlimited numbers of Events.
No Software to Install. No Special Required. Learn to Operate in Minutes.
Contact Fairs M.I.: [email protected] or CALL  443.235.1344
Getting Started
 STEP 1:  Fill Out Contact Info Form Below
 STEP 2:  Watch Quick Info Videos (Each less than 5 minutes)
"Your Interactive Fairground Map"
"Rodeos, Renovations, and RV's: Extended Uses of Fairs M.I."
"Lesson One - Fairs M.I. Tools"
STEP 3:  "Test Drive" the your Fairground on our Open Access, Practice Site.
Take a Quick Tour of the Fairs M.I. Tools, with our  List of  "How To Videos".  And then check out your Fairground on Fairs M.I.: AFA Open Access Member Library.
STEP 4: Contact us to schedule phone guided demo or learning sessions.
Contact Us by phone or email with questions or requests
Ask for Steven Bolgiano 443.235.1344 / [email protected]
... don't forget to fill in the form below.